Our meetings are held at the Royal Canadian Legion Br. #263 at 1025 Ridgeway in Coquitlam -- 8pm. For the Coquitlam-challenged that would be one block North of Austin and one block East of Blue Mountain.
Last Updated June 25th, 2012- Arlington and Alcan Itinerary
Arlington Airshow is *always* a great event and the challenge to outdo the Americans is still on! This event always draws a huge crowd of our fellow U.S. collectors in the Puget Sound area and even further afield, and a great many folks from the B.C. mainland, Interior and Island typically show up. The last year I was there featured many rare aircraft and even "Apocalypse Now" style Vietnam-era Navy PBR "plastic patrol boats." Seriously - if you've never been - you're in for a treat.

Camping is available on-site (most of the regulars camp out there) or you can try your luck at the local hotels/ motels. John Hawthorne has prepared the movement order and there will be a couple of different groups going down at different times, or you can just come down on your own and meet us there. The Movement Order is downloadable as a .PDF via the link below:
Arlington Airshow - July 11th thru 15th 2012
Coming up rapidly to the eagerly-anticipated kickoff of the Freedom Route 5 Alcan Highway trip through communities in Northern B.C. and Alaska. As the webmaster I've fielded a number of inquiries from towns and individuals along the route so the word is out there. Posters (see left - click to download a printable version) have been distributed to Legions etc. along our route so...let the Invasion begin! We have a contingent coming from Edmonton, and one fellow's even shipped his WWII CMP all the way from Europe so he can take part.


Convoy Coordinator John Hawthorne has come up with an itinerary which you can download below. As this is a longish trip, participants are reminded that their vehicles need to meet a high standard of mechanical reliability, and you *must* carry common spares with you (spare headlights, decent spare tires, brake fluid, engine oil and antifreeze and basic hand tools at the very minimum.) While Club members *always* help out other members experiencing mechanical difficulties and are more than willing to share experience, tools and even spare parts -- the first and best person you should be relying on is *yourself*, so please plan accordingly and lay in whatever spares you may need.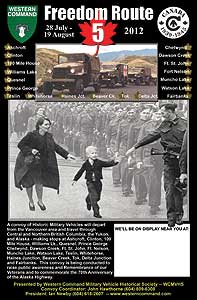 Alcan Highway -- Freedom Route 5 - 28 July thru 19 August 2012
First of all, I'd like to join the rest of Western Command in welcoming back long term MVPA and Western Command member Colin Stevens who returns as a member and our newsletter editor after a long hiatus. The first edition of the new newsletter has been printed and will be available on the "Newsletters" page shortly if you've not already received it in your mailbox. Those on electronic delivery should've already received it, but if not, please let me know via the Webmaster's email address on the 'Contact Us' page and I'll try and get it sorted.
.I will soon add a permanent link button to the menu on the left of this page, but for now you can click the heading above to go straight to the photo section on the photo-sharing site Flickr, or click here:
http://www.flickr.com/photos/westerncommand
and add it to your bookmarks. If you know how to use Flickr and want to be able to upload your own event pictures into an event-specific folder, just email me at the address on the 'Contact Us' page and I'll hook you up with the access information. Ideally we'd appoint someone to take care of the photo section as I don't have the time to process all the pictures people send me, but failing that I'll do what I can when I can. At the moment all the recent Freedom Route pictures are up, along with a short iPhone video I shot during the parade in Penticton. See 'Recent Events' below for a link to pictures of the Engineers 100th Anniversary which recently took place.
Secondly, I'd like to apologize for the complete lack of updates and new material here on the Club website. There are a number of different reasons why it hasn't been updated in a long time - with the most recent irritant being that I have to learn how to do things all over again thanks to the removal of many of the tools I've used over the years from the design program thanks to updates/revisions to Internet Explorer and the general industry retreat from the use of Adobe/ Macromedia 'Flash', of which this site (and thousands of others) use a fair bit. This means I will have to revise and revamp a number of things as I get time to bring the site design in line with global browsing changes. I personally feel the most important aspect of the site with respect to the Western Command membership is info on 'Upcoming Events', so I will endeavor to stay on top of that as much as I can.
Western Command on Facebook!

Hey, isn't everybody? Search for Western Command and join us on Facebook for event information, pics, general chat and just plain fun! Social media works for you even if you're driving something with a machine gun mounted on it...perhaps even better that way!
Western Command Newsletter Returns! - March issue
Here
Recent Events: Heritage Acres, Fort Rodd Hill, Hyack Parade
Huge number of recent events I can't really do justice to in the space/time I have here. The recent May long weekend saw a number of Mainlanders head over to Vancouver Island to join our Vancouver Island members at both the new event at Saanich Heritage Acres and the traditional Fort Rodd Hill Living History event. Both were very successful, and it looks as though the Heritage Acres event will be a permanent part of our calendar in future, as the reception from the public and organizers alike was very enthusiastic. Next year plans are afoot to shift it to a different weekend so as not to interfere with members wishing to do the Fort Rodd Hill event as well, as this year there was some commuting between the events which was...less than ideal...especially in the equally less-than-ideal weather on Sunday.

Fort Rodd Hill was attended by Harry Moon, Guy Black, Cary Price, Mark Ivens and Don Thomas (sorry if I missed anyone), and Harry is to be commended especially for bringing out literally a mountain of equipment for his always excellent display despite the rotten weather. Some members set up at the Saanich display took the time to visit Fort Rodd Hill as well, though some of us couldn't get away. I didn't get out there but for vehicles I believe they had Harry's CMP and Cary's M43CDN ambulance, plus a WWII jeep.

The Saanich event itself had Katrinka, Don Gordon, Stan Leschert and friend 'Radar', Ian and Doreen Newby, Andy Hill, Monty Black, David Beale and girlfriend, Brent Blakely, Peter DeLisle and son, and a few other folks I didn't have a notepad handy to record the names of. Newsletter editor and Official Western Command Photographer (so his patch says anyway!) Colin Stevens dropped by both this event and Fort Rodd Hill to photographically record the event for posterity, so stay tuned for an upcoming newsletter to check out the pics. Vehicle wise, the Saanich event had Andy Hill's 1974 M151A2CDN and M100CDN trailer; Ian Newby's 1986 M1114 armoured HMMWV; Katrinka and Don's M16 Halftrack and HMMWV - Peter DeLisle's HMMWV - Brent Blakely's motorcycles (didn't get the nomenclature but those things are cool and a half) - Ian Newby's M1008 CUCV 5/4 pickup (driven by David Beale), Monty Black's M37...a rare Pinzgauer 6-wheeler converted beautifully into a camper came by for a visit...and more that my memory's blocking at the moment. Thanks to all who helped make both events a success.

Hyack Parade was well attended, though one mechanical failure and some truly, awfully and horrifically bad directions scuppered two more willing participants - but that's how it goes sometimes. I believe we had six vehicles in the parade which seems just the right amount before it starts to look a bit like an old-school Soviet-era May Day Parade. :) Thanks to all who made that happen as well.
While many people are going for the full period, others have schedules which permit them to tag along only part of the way. Anyone wishing to join the convoy at any of the stops on the road (or just come out for the day) is more than welcome to do so - with the stops/timings laid out in John's itinerary below. If you have any questions or require further information, please contact John at the number shown on the poster at left, or via the contact information provided in the itinerary.

We will be running a convoy communications safety net on assigned frequencies yet to be determined, and any newer pack or vehicle set in working condition can listen in (AN/PRC-25, AN/PRC-77, RT-524 '46 set', SINCGARS etc.)

As per the last meeting, BCAA has generously offered to extend us basic towing/recovery coverage in areas served by BCAA, and Veterans Affairs has kicked in with some serious support as well. We even have the Canadian Forces on board, as I think a G-Wagen and crew will be with us as far as the Alaska border as part of a training exercise.



IF THE ABOVE LINK DOESN'T WORK FOR YOU -- CLICK *HERE* INSTEAD.